Naka / Tikkun - In the first litter, there was one liver nosed female and 5 males, one of which was liver nosed. There were no dermoids, ridgeless, jaw faults, kinks or gay tails. Coefficient of inbreeding with 10 generations calculated = 7.65%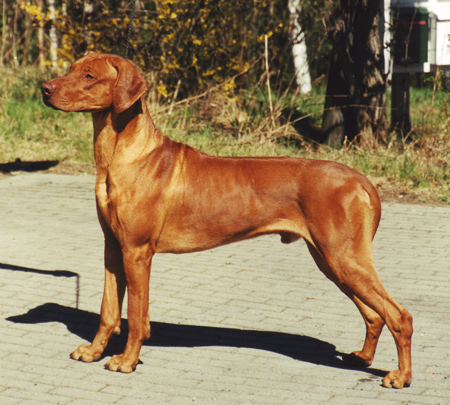 UKUKHANYA SCOUT THE RED BARON: John Sigve Berg called me before the first litter was born, looking for a puppy that would give Norway a boost, genetically. Moreover, he was looking for a pup that could be shown extensively. Thankfully, Tikkun produced such a dog. Scout lived with us for five months then, due to quarantine restrictions, he lived with a foster family for an additional four months in Sweden.  He finally arrived in his new home, where he quickly became a super star! Scout was given his name because it represented a fearless, happy character that could forge his way in a new land. This he did. Many thanks to all the people who made this possible and to John for all his love and work.
| | |
| --- | --- |
| | |
| Born | January 16, 2000 |
| Sire | SA AKC CH Karoskloof Bayezana Naka ROM |
| Dam | AKC Int'l CH Nomvuyo Tikkun ROM |
| GDC | Hips Excellent |
| GDC | Elbows Clear |
| CERF | Normal |
| Thyroid | Normal |
| Cardiac | Normal |
| Teeth | Lacks one P4 lower left jaw / Full Scissor Bite |
| Height | 27 inches |
| Weight | 89 pounds |
| Color | Red Wheaten / Liver Nosed |
SHOW CAREER:

>

6 Best in Shows.

>

23 Group placements.

>

BISS Swdeish RR Specialty 2001 and 2005.

>

BISS Danish RR Specialty 2003.

>

Best Op Norwegian RR Specialty 2003 and 2004.

>

Scott was invited to attend the prestigious Crufts Dog Show two years in a row.

"The most remarkable moment of my judging was when Ukukhanya Scout The Red Baron entered the ring. He is a liver nosed dog, which I do not normally like, but then I have never seen one exhibiting the breed type and head of this one. He is, without a doubt, the best ridgeback I have seen. Superb conformation, excellent temperament, super head, excellent bone front and feet, excellent top line well ribbed back. His movement is outstanding, driving off well from strong well-muscled hindquarters with correct width behind hocks. In profile, effortless with great reach and drive, coming towards absolutely true. This was all wrapped in a beautiful coat and color. He was an easy winner in his class and never stopped showing in the challenge with enthusiasm and style. I was pleased to award this outstanding young dog Best in Show and also CAC. I hope to hear more of him in the future."
Lindsey Barns
[Her comments after judging the Rhodesian Ridgeback Swedish Specialty 2001.]

BREEDING AND HEALTH HISTORY:

>

Scout went to Norway to live with John-Sigve Berg and his family and kennel of ridgebacks.

>

Scout has sired 13 litters: 5 in Norway, 2 in Sweden, 1 in the UK, 1 in Germany, 1 in Belgium, 1 in Russia, and 2 in Australia.
ADDITIONAL INFORMATION:




Scout passed away in 2006 due to complications resulting from a snake bite.